This week theme: Top Ten Books I've Read So Far This Year. This is my first Top Ten Tuesday and am excited because so far ive read 31 books so far and have plenty of choices to choose from. No particular order but here is my top ten picks:
1.
The Hobbit by J.R.R Tolkien: what is there to say about this book that haven't been said already. Tolkien had a fantastic way of describing the world of Middle-Earth and though the characters sometimes bugged me I simple flew through this book.
2.
Fire & Flood by Victoria Scott has to be my favorite book this year. I loved everything about this book from the characters, the Pandora's, and the world itself. Only thing I didn't like is that the second book isn't out yet.
3.

City of Glass and City of Ashes by Cassandra Claire: I love both of these books for the way that they both made me have so much feels. City of Glass had me rage so hard that it wasn't funny. City of Ashes there was some raging but there was also a lot of cheering.
4.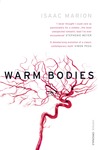 Warm Bodies by Isaac Marion: was my first real zombie book and I one where I watched the movie before I read the book. And I totally enjoyed the book better than the movie for the more action then a romance that the movie shows.
5.
Vampire Academy by Richelle Mead how hyped this book was when it first came out I wanted nothing to do with it. Now I can't wait to finish it to see what happens next. Better late then later right.
6.
Angelfall by Susan Ee no quick romance, great humor, graphic description, and angels who rule the world yes please. Also need the next book  World After because I just need it.
7.

The Book Thief by Marcus Zusak: this book made me cry and that's why its on this list. I don't think there is anything I can say that no one has said already about this book so I wont try.
8.

 Rot & Ruin by Jonathan Malberry: another zombie book but the character development and the story itself will have you keep reading. Three more books in these series and can't wait to continue on with the series.
9.

How to Love by Katie Cotugno: it goes from the past to present and it was a quick contemporary read that I finished rather quickly. Teenage pregnancies, first love, and family drama at its finest.  
10. 
 Torn by K.A Robinson:  this book surprised me how good it was and is one of my top favorites this year for sure. Its an adult read and graphic but the story itself is really cute.
So this is my Top Ten and enjoyed making this list it was a lot, and it was easier than I first thought. Let me know what your top ten books you read this far and maybe we can compare.